Kickstart Imagination And Curiosity Today!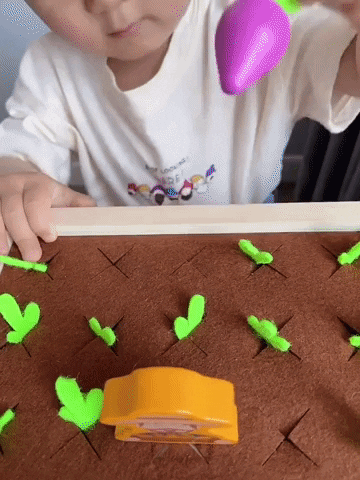 "My daughter loves being able to figure out her new toys for herself and The Explorer Play Kit is perfect for her to be able to do that!"

— JILL M. (MOTHER OF 2)

Free Carrot Teether (worth $20) For Your First Purchase!

Unique & Educational Gift


How Do We Play This Super Fun Game?
Play our amazing games with Memory Cards for nonstop entertainment for hours! Two to Tango and Help The Chef 👨‍🍳

Be the pretend farmer and help the farmer plow colorful radishes and carrots!

Let the veggies grow while you count them! (Improve your kid's math skills woohoo!)

Pluck and harvest the carrots using memory cards from the super realistic farm landscape made with premium craftsmanship.

Top 4 Reasons Why The Harvest Play Kit Is A MUST HAVE!
The Explorer Play Kit is a new and unique learning toy for your little one. Designed to keep your toddlers attention for hours on end - while developing important life skills!

Thoughtful, quality design choices and materials to promote healthy development. Made of natural, environmentally friendly, tasteless, and non-toxic wood!
Developmentally appropriate

A unique learning toy for your little one with just the right mix of helpful tips to navigate every stage of development
Just sit back and relax as you watch your kids examine new things while developing important life skills!
Beat the screen culture with no fuss

The Explorer Play Kit stimulates a child's natural way of learning through engaging, hands-on play!
Why Parents Love The Harvest Play Kit
Perfect!! This game is educational and tactile. Even better than I thought it would be! Highly recommend!!!
This is an adorable sensory and motor skill toy! I got it for my baby girl as an Easter Gift - keeps her busy all day! :)

It's so age-appropriate! We loved getting our Play Kit and exploring all the fun parts of this new development toy!

Recommended by Dr. Neil Mode
- Pediatric Therapist
"The Explorer Play Kit is the go-to toy for active learning times and creativity. 90% of babies will develop motor skills faster while having fun."

Join The BrightRise Revolution with Thousands of Happy Families! 💛
Hate Buying Toys That Your Kids Don't Even Use? We Do Too.
Our "BrightRise Guarantee" means no risk on your end! If the special kid in your life isn't engaged after trying it, simply return the product within 90 days for a full refund!