KICKSTART IMAGINATION AND CURIOSITY! 👶 👧
Spark a love for hands-on learning for budding innovators with The Race & Chase Play Kit 🧠
Improves color and sound recognition

Explore gravity, motion, and changing direction

Discover fun lessons in cause and effect

Age Recommendation: 10 months +

Made from natural, eco-friendly & non-toxic wood
TOP 6 Reasons Why The Race&Chase Is A MUST HAVE!
This marvelous rainbow tree has different musical notes while the marble ball goes down from the highest leaf 🎶
Get more comfortable with routines and time

Explore rotation, spatial relationships, and parts of a whole

Practise color recognition

Suitable for any age from toddlers to adults

Designed to be an open-ended toy. Possibilities are endless!
Why Parents & Children Love This
My daughter loves being able to figure out her new toys for herself and the Race & Chase Rainbow Tree is perfect for her to be able to do that!
★★★★★
It's a fantastic initiative that teach my son about color and sound recognition in a way that is fun and accessible.
★★★★★
Best toy for my boy. Fun! Occupied my kid for hours, It produces sounds when the ball is rolling to each leaf which he loves. Great extension activities!

★★★★★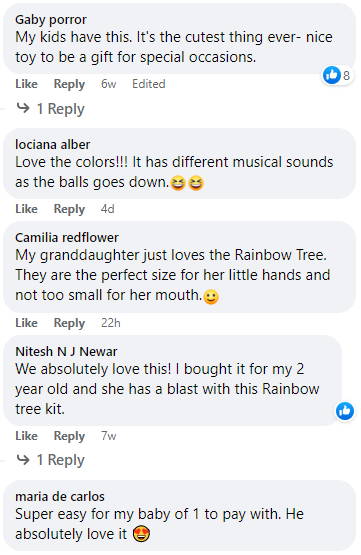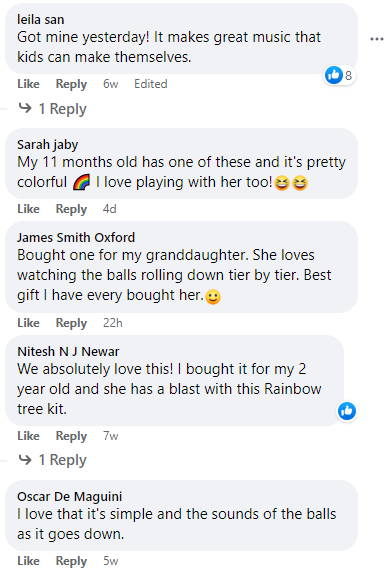 Hate Buying Toys That Your Kids Don't Even Use? We Do Too
Our "BrightRise Guarantee" means no risk on your end! If the special kid in your life isn't engaged after trying it, simply return the product within 90 days for a full refund!
Recommended by Dr. Neil Mode - Pediatric Therapist
"Race & Chase Rainbow Tree Kit is the go-to toy for active learning times and creativity. 90% of babies will develop motor skills faster while having fun."
Are the balls small enough to be a choking hazard?
- The balls are not small enough to be a choking hazard for adult-supervised use 10 months old and above.
What age is this appropriate for?
- We recommend our Race&Chase Rainbow Tree Kit for kids 10 months and above. For kids under 10 months - we recommend they play with the toy as long as they are playing under parent supervision. This way it eliminates any possibility of a choking hazard.
How to install the Race&Chase Rainbow Tree Kit?
- Install screws at the bottom. Connect the two separated trunks. Insert the colored leaves into the trunk from small to large and from top to bottom. Please note that the leaves have to be printed facing down.
What's the height of the Explorer Kit and Pioneer Kit?
-Explorer kit is 28.5 cm and the Pioneer kit is 71cm
How do we play this game?
- Drop the ball from a high place and follow each piece of colorful leaves, the children will hear the sound of "ding-ding" music
How long would it take to get my order?
- Once your order is shipped, depending on your country or region, the estimated delivery time is between 5 to 15 business days. This can vary for international orders.
We have several warehouses worldwide (from North America, Europe & Asia) - so it depends on factors such as your nearest warehouse and stock availability.
Are the XL marbles should have to purchase separately?
- Yes, you can buy a set of our Extra Large Marble Run Ball Set (you can find this as a bundle on the product page)
Why do the leaves fit pretty loosely?
- They're meant to be that way for the child to move the leaves around during play and change the tune and color pattern.
What are ALL the materials made?
- Healthy material made of 100% natural wood, No strange odor, Certified with CPC.
- Our Race&Chase Rainbow Tree Kit is designed by experienced craftsmen who spent 150+ hours making it extremely durable, safe, and reliable - keeping little kiddos in mind.
Is it made with non-toxic material?
- Our Race&Chase Rainbow Tree Kit is made of natural and environmentally friendly, tasteless, and non-toxic natural wood.
- Yes, 100%! Our Race&Chase Rainbow Tree Kit has been designed by experts and tested by kids. The product has smooth corners, laser engravings, and premium craftsmanship design. The product has a CPC certificate too.
What's the Bright Rise Refund Policy?
- We always aim to make sure our customers love our products, but if you do need to return an order, we're happy to help. Just email us directly and we'll take you through the process.
We back our product policy with a risk-free 90 Day Guarantee. If for any reasons you aren't satisfied, We offer an iron-clad 100% money-back guarantee, so there's absolutely ZERO RISK buying from Bright Rise - please send us an email if you need any assistance.
Do you offer free shipping?
- We offer free shipping for order over $49.